10000MDP-CS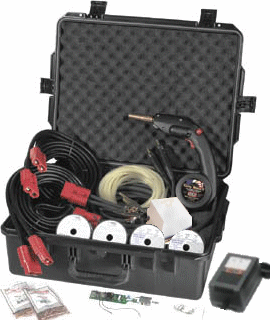 The 10000MDP-CS Model was designed especially for ships, oceangoing workboats, all grounded vessels, as well as Aircraft Carriers.
This Unit is housed in a Pelican, heavy-duty case that is airtight and waterproof.
The case includes our AC to DC Power Converter, battery cabling hookup, with the following essential spare parts: Extra wire spools, gasless flux core wire, extra welding tips, two (2) 6m extension cables and 18m of extra gas hose, and a NATO Slave Plug. The Cold Switch Assembly is housed in a fist-sized red plastic box.
The Naval Pack weighs less than 30kg. The Ready Welder itself is incredibly portable, a quality tool, and easy to use! The Naval Pack has a two (2) year 100% parts and labour warranty.
This Unit is referred to as the "Cold Switch Model". We have developed it for the additional Safety provided by the fact that an arc cannot be struck unless the operator is ready to weld. He then pulls the trigger to restore welding power.
SPECIAL ORDER
10000MDP-CS Features:

Welds steel, stainless and aluminium or any metals where standard one or two pound spools are available connects to batteries, or any 24V to 36V DC power source.

18 volt batteries can do thin sheet metal
24 volt will single pass ½"/12.5mm @275 amp
36 volt will weld up to ¾"/19mm @350 to 400 amp

Welds 22 gauge to ¾"/19mm
Connects to mig/constant voltage output welders
Uses wire sizes from 0.6mm to 1.2mm without changing rollers
Uses heavy-duty tweco quality front end consumables
Wire speeds of 1.3m to 23m per minute
Polarity indicator lights
5m cable with quick disconnects
2 × 6m extension cables
AC to DC power converter to drive gun controls when connected to cc/stick machines
Built-in gas valve
Ground cable attached

Ready Welder II Case Includes:

RWII high-impact MIG gun
5m of cable
Two spools of flux core wire
300 amp ground clamp
Two spools of aluminium, 4043 & 5356
Gas hose fitting
Quick disconnects on all connections
15m of gas hose
Water proof, airtight heavy-duty case
Two twenty foot extensions
Extra circuit board
Twenty five 0.9mm and 1.0mm contact tips
Essential spare parts
NATO MIL-spec slave plug
Cold switch assembly encased in a red plastic box