Ready Welder 10000-CS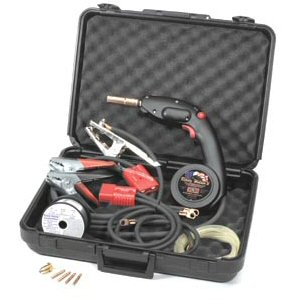 The Ready Welder Model 10000-CS is most frequently used by farmers, 4WD enthusiasts, off-road racers, people on powerboats and yachts, off-grid homes using solar-power, and anyone that is going to be using batteries as the primary power source. The work-clamp cable is attached to the quick-connect Anderson plugs. This makes welding jobs in remote locations, even large work, so easy.
The Model 10000-CS will run off any combination of 18, 24, or 36 volt batteries in a parallel arrangement depending on the application and material to be welded.
The Model 10000-CS has a two-year, 100% parts and labour factory warranty. The Cold Switch was designed at the request of the US Military to prevent unintended arcing. With the Cold Switch the Ready Welder will only arc when the trigger is pulled. When not welding you can lay the welder down without the danger of the welder creating an arc. We only sell Ready Welder models with the Cold Switch included as standard.
Use your existing mains-powered DC welder as a power source: The Ready Welder makes an ideal MIG Spool Gun addition to any constant-voltage DC MIG welder (Arc/Stick welders are not suitable because they are constant-current devices). To protect the Ready Welder's electronics and wire-feeder from any voltages greater than 36VDC you will need the optional AC to DC Power Supply. Just click the second button below and be ready for all situations.
Price: $885.00 (incl. GST)
(Credit card/Paypal payments incur a 2% surcharge)
Freight: $25.00*
* Surcharge may apply to some remote areas, please call.
10000-CS Features

Welds steel, stainless and aluminium or any metals where standard one or two pound spools are available
connects to batteries:

18 volts can do thin sheet metal
24 volts will single pass ½"/12.5mm @ 275 amp
36 volts will weld up to ¾"/19mm @ 350 to 400 amp

welds 22 gauge to ¾"/19mm
connects to mig/constant voltage output welders
uses wire sizes from 0.6mm to 1.2mm without changing rollers.
uses heavy-duty tweco quality front end consumables
wire speeds of 1.3m to 23m per minute
polarity indicator lights
Three metre cable with quick disconnects, can be extended to 24m
built-in gas valve
ground cable attached

Ready Welder II Case Includes:

RWII high-impact MIG gun
3-metre gun and work cables
One spool of flux core wire
300 amp work clamp
Two battery clamps
Extra tips and gas hose fitting
Three metres of gas hose
Foam lined blow-molded tough briefcase